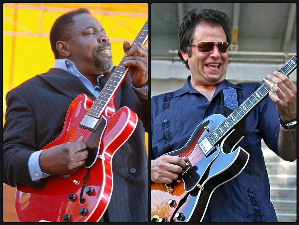 Join us on March 6th for Dave Specter's Adventures in Guitar with special guest Lurrie Bell, winner of the 2013 Living Blues award for Blues Artist of the Year! Chicago's own Lurrie Bell combines deep blues intensity with raw improvisational power. One of the world's most renowned exponents of real deal Chicago blues. This special show will be a preview of Dave and Lurrie's April 2014 European tour.

Born in 1958, the son of famed blues harmonica player Carey Bell, Lurrie Bell picked up his father's guitar at age of five and taught himself to play. He was clearly gifted. In addition, he grew up with many of the Chicago blues legends around him. Eddie Taylor, Big Walter Horton, Eddy Clearwater, Sunnyland Slim, Jimmy Dawkins and many more were frequent visitors to his house. They all helped to shape and school him in the blues, but none as much as his father's long-time employer Muddy Waters.

By seventeen Lurrie Bell was playing on stage with Willie Dixon. He was a founding member of The Sons of Blues with Freddie Dixon (son of Willie) and Billy Branch. The band recorded three standout tracks for Alligator Records' Grammy nominated Living Chicago Blues series. In 1978 Bell joined Koko Taylor's band and stayed for several years, honing his chops and learning the ropes of being a traveling musician.

At last count Lurrie Bell has now appeared on over 50+ recordings either as leader or featured sideman. Lurrie Bell's elegant and intense guitar playing and passionate vocals have made him a favorite at clubs and festivals around the world and have earned him a reputation as one of the "leading lights" in the future of the blues.

"An incendiary fusion of Chicago blues boilerplate and his own mercurial imagination, hyperkinetic energy and dazzling technical dexterity." - Chicago Reader

Dave Specter is currently working on his 10th studio album and has recently performed in Argentina, Israel, France and Hawaii. Dave and Lurrie began working together in the early '90s with Specter producing 2 albums by Lurrie for Delmark Records.

"Specter's ninth album "Spectified" confirms his status as one of the few top-tier guitarists" - Downbeat

Dave Specter's Adventures in Guitar series, which has been running at SPACE for the past four years, has featured some of the finest talents in blues and jazz including Jimmy Johnson, John Primer, Steve Freund, Jeff Parker, Donald Kinsey, Tad Robinson, Sharon Lewis, Billy Flynn, Rockin' Johnny, Nick Moss, Rick Holmstrom and Eddie Shaw.