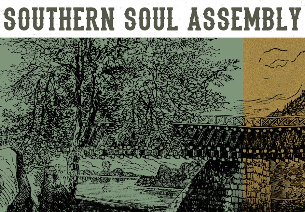 The Southern Soul Assembly Tour
Featuring JJ Grey, Marc Broussard, Anders Osborne, and Luther Dickinson
"It's a bit of a mystery as to exactly what will unfold on the road and on the stage," says JJ Grey. "That's the excitement of it. I'm looking forward to the whole interaction, the whole front porch feel, drinking a beer and hanging out and playing music."
"Epic collaboration," Marc Broussard chimes in.
One thing is for certain though: the Southern Soul Assembly will live up to its name, drawing from the rich legacy of American Southern culture of the players. "Just like food in the South, our music is greasier than most," says Broussard. "The beat is on the backside, generally, because it gets too hot for people to move too quickly."
Each of the four musicians comes to the SSA with a proven track record in the often-overlapping genres of music most closely associated with the South. "That's where we all come from," says Grey, best known as the frontman of Jacksonville, Florida's JJ Grey & Mofro, whose hybrid mix of soul, funk, blues and gutsy rock is sure to find its way to the Assembly's gigs as well. "The South is in each of us."
Broussard, although only in his early 30s, has been making an impact since his first releases more than a decade ago. His albums, including 2007's S.O.S.: Save Our Soul and his self-titled 2011 effort, have all found a devoted core audience that will undoubtedly delight in witnessing him interact with the other members of the Southern Soul Assembly. Anders Osborne, although born in Sweden, is about as American as it gets, having long ago established himself as a New Orleans mainstay. His recordings, most recently for the legendary Alligator label, reveal an artist steeped in Southern traditions. Luther Dickinson, the Memphis-born lead guitarist and vocalist of the North Mississippi Allstars, is a highly prolific artist who not only keeps the blues alive, but has taken it to new places. And Grey, for more than a decade, has written about the lifestyle and spirit of the South, re - imagining classic soul music for contemporary listeners. Each member of the Southern Soul Assembly weaves spellbinding stories in song, and it'll be a treat to see just what transpires when they meet onstage this spring.
"Man, each of these guys can play," says Grey. "It'll be fun to hand the song off, trade songs and go around the horn. It'll be like, let's work our way through the night and see what happens. Of course, the audience always plays the show with you, and I think that will be especially true with this tour. Each night will feel like a big ole Southern family reunion."


Southern Soul Assembly will also be playing a 7pm show. For tickets, click here.