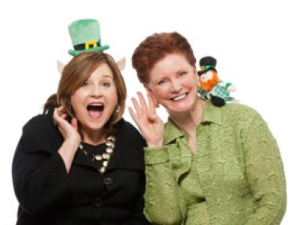 POT OF GOLD: Irish Stories and Songs by two of Chicago's own, Mary Megon Margaret McDonough and Susan Eileen Mary O'Halloran
Come celebrate St. Patrick's Day with two fiery redheaded Irish lasses from Chicago!


Nationally-known singer/songwriter, Megon McDonough, and story artist, Susan O'Halloran, dish about the pleasures and pitfalls of being raised Irish American.


From classics songs such as the woeful
Danny Boy
to the original and humorous tunes such as
The Mary Gig
; from stories of searching for connection in the "old country" to the unique Irish way of dealing with "enemies" -- you don't have to be Irish to enjoy this evening of what's universal for all of us: family, sacrifice and, always, joy and laughter in the face of conflict!