All Upcoming Shows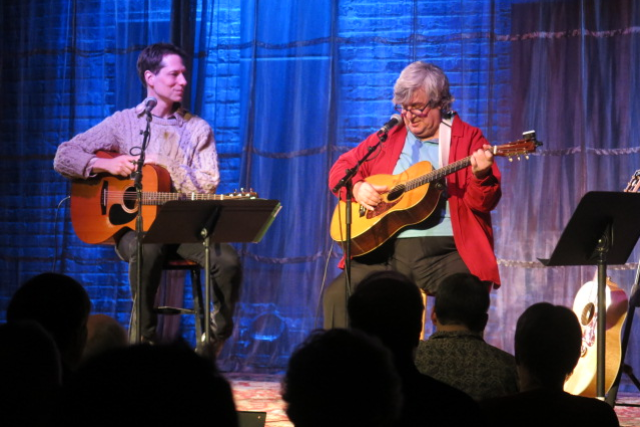 Featuring songs by Holstein & Dawson, along with a joint set of Bob Dylan classics
Eddie Holstein has been a stalwart of the Chicago folk music scene for over 40 years. He has written a number of songs including "Jazzman" which have been recorded or performed by the likes of Bette Midler, Bonnie Koloc, Tom Rush, Steve Goodman, and Martin Simpson. He is also a featured performer on the Grammy-winning album Tribute to Steve Goodman. His unique blend of folk songs, blues and humor always entertain.
In the early days of the Chicago Folk Boom Eddie and his late brother Fred performed at legendary clubs like The Earl Of Old Town and Somebody Else's Troubles where folks like Goodman, John Prine, Bonnie Koloc & others got their start. The Holstein brothers owned a self named club that featured national touring acts until the late '80s. Beside guitar playing one learns loads of history when taking a class from our resident folk icon, Eddie Holstein.
Steve Dawson was born in California, raised in Idaho, and currently lives in Chicago. His songs show evidence of all 3 places – the California folk-rock of the early 70's (Gram Parsons, Neil Young, Jackson Browne), the country music he heard growing up in Idaho, and the blues and soul music of Chicago. Dawson first picked up guitar at age 12 and began writing songs almost immediately. His first professional gig was playing guitar with Cadillac Carl and the Road Rangers at the Silver Dollar Saloon in Bellevue, Idaho. After high school, Dawson attended the Berklee College of Music in Boston, studying jazz composition and songwriting, while also performing in the local folk music scene. In the early 90's Dawson moved to Chicago. Upon his arrival he met Diane Christiansen and they formed the band Stump the Host, which became a training ground and a showcase for Dawson's eclectic songwriting. In 1995 Stump The Host changed personal and evolved into a new band, Dolly Varden, releasing the first of five albums that would reflect the growing craft and depth of his songs. Critics from Rolling Stone, Uncut, and the Village Voice, among many others, have praised Dawson's gift for melodic, evocative songwriting. Dolly Varden has toured all across the US and Europe over the last 18 years. In 2006 Undertow records released Dawson's first solo album, "Sweet Is The Anchor," a collection of quiet, layered songs recorded in Steve's home studio. Critics noted Dawson's heightened strength as both a songwriter and singer, combining elements of country and soul: "Sweet Is The Anchor is a vocalist's album awash in the languor of country music and the Saturday night highs of soul" (Chicago Daily Herald). Dawson's second solo album, "I Will Miss The Trumpets And The Drums," (Undertow, 2010), was once again self-produced and recorded in Dawson's home studio, Kernel Sound Emporium. The follow up to "Sweet Is the Anchor," the album features 13 haunting, melodic songs about change and letting go, sung in Dawson's plaintive tenor, with echos of classic country, pop and soul.