All Upcoming Shows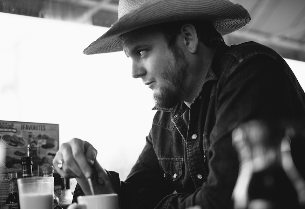 Paul Cauthen remembers sitting alone in an Austin house after a weekend-long bender. A life making music seemed to be slipping away. Wide awake with nothing to lose, he fell on his hands and knees right there, bowed his head, and threw down a divine gauntlet.
"I dared Him," Cauthen says, recalling his desperate challenge to God. "I said, 'Use me. I'll be a rag doll. Just put me out there, let's go. I dare you.'"
Most people don't plead in the form of a dare. That blend of vulnerability and brash confidence is part of what makes Cauthen and his music -- which often hinges on the same paradox -- so compelling. Whether it was by heavenly intervention or sheer force of will, Cauthen emerged with My Gospel (Lightning Rod Records), his mesmerizing full-length solo debut. Produced by Beau Bedford, the record is both an artistic and personal triumph. My Gospel captures a young artist in full possession of a raw virtuosity that must sometimes feel like a burden: If your singing takes listeners on white-knuckle rides and you write like a hard-luck Transcendentalist poet who abandoned the East Coast for the desert, you'd better do both. Anything else just wouldn't feel like living. "I don't know what else I'm supposed to do in life," Cauthen says. "So I just kept on working. Even when I didn't hardly have money to eat, my songs allowed me to get into the studios. I wrote my way into this thing."
The album is called My Gospel, but make no mistake: These are songs about Earthly struggles to love, connect, and just get by. "I'm not super religious," Cauthen says. "I don't believe God is this guy wearing a white cloak who comes down with wings and beautiful sandals. I do believe that people are put into other people's lives for reasons, and those reasons are unexplained. I believe that is God."
Americana music fans will remember Cauthen's name from Sons of Fathers, the raucous Texicana group he co-founded in 2011 with bassist David Beck. The band earned glowing praise from Rolling Stone, NPR, and others, thanks to two albums that climbed into the Top 10 of the Americana Music Chart. "We had just played a show with Edward Sharpe and the Magnetic Zeroes, playing for 7,000 people," Cauthen says. "And I quit. I just knew it wasn't where I was supposed to be anymore."
That was three years ago -- and the impetus for ending up in that apartment in Austin. Cauthen has since learned to channel his racing mind and rumbling baritone into the blues, gospel, and rock-and-roll that fuel My Gospel with gale-force power. Over the course of three years, Cauthen recorded the album in several different studios across the country: Willie Nelson's Arlyn Studios in Austin; FAME Studios in Muscle Shoals; Sargent Recorders in Los Angeles; Modern Electric Sound Recorders in Dallas. The result is a quintessentially American album unlike anything in recent memory. "We were going for timeless. We were going for righteous. Those were the two words that we focused on while we were recording," Cauthen says. "That's it."