All Upcoming Shows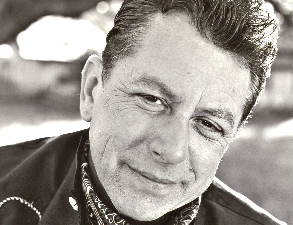 In the rock'n'roll era, the vast spaces of west Texas have been filled with great music. Joe Ely stands in a tradition born out on these gritty plains. It includes Roy Orbison, Buddy Holly, Waylon Jennings, Tanya Tucker, Guy Clark, Delbert McClin- ton, Don Walser, Terry Allen, Lloyd Maines, his daughter Natalie Maines, and Joe's enduring musical partners, Butch Hancock and Jimmie Dale Gilmore.
It is a land where you can see for miles and miles and miles. Only those who don't know it find it barren. For it's full of stories if you know where to seek them. And it has customs and amusements all its own. Even the forever dipping oil wells have their role. "In high school, we used to get somebody to buy us a six pack and go out there to the fields and ride the front part of those oil pumps all night long," Joe remembers.
Now, Ely lives in Austin and spends much of his life on the road. But when he's accumulated enough song ideas, Lubbock is where Joe heads. "Somehow, just driv- ing for hours down those country roads is still the best place for me finish my songs."
Panhandle Rambler is one of the most personal albums Joe Ely's ever made. It brings forth this terrain, the spirited people it produces and that special sense of destiny, be it terrible or glorious, that its very vastness creates. "Wounded Creek" starts the album with what you might call a Western fantasy, except that the "bushes and the brambles," the traffic light, the stray dog and the cold wind are all completely brought to life.
"Sometimes, when I was a kid, you'd look outside and the only things you'd see would be these huge radio towers, must have been fifty of a hundred feet tall, just swaying in the wind," Joe said. "Won- derin' Where," perhaps Panhandle Rambler's most beautiful melody, pays tribute those trembling towers, the railroads which carried other things equally uni- maginable distances, the "cross between a river and a stream" where he played, and the dreams and nightmares that flitted across that kid's mind and heart, and the loneliness of bearing such secrets. If it is possible to write a love song for a place, this is one of the great ones, "trying to find a verse that's never been sung to hearts that need relief."
"Here's to the Weary" is the story of all the great musical refugees, from Woody Guthrie, Bob Wills and Muddy Waters to the rockabillies—Buddy Holly, Chuck Berry, Carl Perkins, Jerry Lee Lewis, the shadows of the others—who soothed our "weary and restless souls" with nighttime musical magic.